What is so special about GRIP?
GRIP is a product that will put new life into older racing tyres by making the tread softer and improving grip.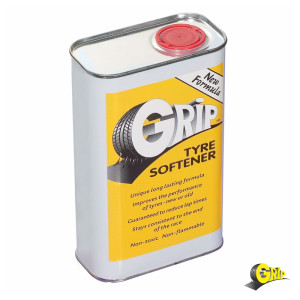 Does it only work on older tyres ?
No, it also works equally well on new tyres where a softer compound is required.
How does GRIP work?
GRIP is painted on to the surface of the tyre. It then penetrates down to soften not just the surface of the tyre but all of the rubber beneath.
How long will a treatment last?
That really depends on how well the tyres are treated. For best results the tyre surface should be painted over several days. This will allow GRIP to fully penetrate and provide more consistent performance lap after lap. The longer the tyre is left before use, the deeper the effect is.
How do I know when the treatment has worked?
A simple test is to push your thumbnail in to the surface of the tyre before and after treatment. It should be noticeably softer after treatment. However, a more accurate method is to use a Durometer; a gauge specifically designed to check tyre softness. Available on the order page
In which types of motor sport do you feel GRIP would be beneficial?
We have customers who use GRIP in circuit and oval racing, karting , motorcycle racing, drag racing and even grass track racing! However, GRIP is also popular with owners of high-performance road cars who need a competitive edge, and specifically with those who use them in competitions such as organised street racing at drag strips.
What happens if I get GRIP on my clothes?
GRIP will not harm your clothing or your skin, but it is best to wash off immediately to avoid any possible staining. The use of gloves is recommended.
I am aware that delivery companies have restrictions on handling certain products. Can I safely order by Mail Order?
Yes ,GRIP is non-flammable and non-toxic (the only product to be so) and can be transported by normal delivery methods without problem
How long will a one litre bottle last?
A one litre bottle should allow you to comfortably treat four tyres up to five times.
How long does GRIP stay in a tyre?
A treated tyre can stay softened for several months. Obviously repeated heat cycles (racing!) will eventually reduce its effectiveness, so for best results it is always recommended to reapply fresh coats of GRIP a week prior to any race.
I have ordinary road tyres. Will GRIP work for me?
GRIP is most effective on race tyres as they contain a higher amount of natural rubber. However, significant improvements are evident on all types of tyres.
Should I wrap my tyres with cling film after treatment?
There is no need to do so as GRIP is non-evaporative. The only benefit of wrapping tyres after treatment is to keep them clean.